The Way Japan Ought to Be
Keidanren Maps a Vision for Japan in the 21st Century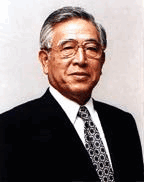 TOYODA Shoichiro
Chairman, Keidanren
---
Last year, I had the opportunity to visit some ASEAN nations as a member of a Keidanren mission. I was amazed especially at the young people of those countries. They were full of hope and dreams for their future and that of their countries. Those young people were working hard to build their countries and turn them into more prosperous places.

Through this experience, I came to think that we Japanese have to strive for higher goals than we currently do. We need to have higher dreams for the future and make efforts to realize them. In the past, children wanted to do something big when they grew up. They wanted to become cabinet ministers or scientists. They had dreams.

The Prime Minister's office recently conducted a survey on how Japanese view their lifestyles. According to the survey, we found that 70% of respondents felt that they were "satisfied" or "mostly satisfied" with their current lives. The figure was the highest ever in such a survey. I'm afraid that young people feel Japan is the best place in the world, and that they need not do anything for the future of their country.

Looking at the world today, we are living in an age of megacompetition. Japan has fallen behind in globalization and is lagging in the information revolution. Meanwhile, Japan's population is aging faster than that of any other industrialized nation. Furthermore, Japanese are having smaller families. Our present infrastructure and social services are inadequate to cope with those trends.

If we fail to come to terms with those issues and responsibilities, we will be unable to maintain our standard of living. We will become isolated from the rest of the world. Japan must take bold action to tackle domestic issues and, as an economic giant, to fulfill its international responsibilities. We must strive to do everything possible to realize our vision for Japan, and thereby contribute in shaping a better world.

We at Keidanren are drafting a blueprint for Japan in the year 2020 -- a vision for our nation in the 21st century. We are sketching a broad outline for a more appealing nation. I would like to see Japan as a country where its young people have dreams and where people from around the world would be happy to live and do business.

In framing our vision, we see to it that we adopt a global perspective. Viewing Japan in a global context enables us to identify appropriate goals. We should regard working together with people in other nations, for example, as a fulfilling and gratifying endeavor. We should want to extend a helping hand to people in other nations who are struggling with hardships like poverty.

At Keidanren, we are determined to make Japan a vigorous nation that is open to the world. Japanese need to view this goal from global context, act globally, and fulfill global responsibilities. If we can accomplish this goal, the rest of the world will see Japan as a nation on which they can rely and which is worthy of respect.

Making a conscious effort to win respect may seem an odd, even presumptuous, endeavor for a nation. Yet, efforts to win the respect of our fellow members in the international community are bound to make us a better nation.

Success of our efforts to make Japan a better nation also hinges on our success in better educating our people. We need to provide them with the necessary background to be creative, to adapt to international standards, and to take the initiative to pursue goals.

I believe the children who will lead the next generation need more than just good schooling. They need to be well-rounded individuals. They should be participating in activities like Boy Scouts or charity work. This also means they should be able to interact well with their counterparts in other nations. Those children will make Japan which will be worthy of respect. I count on them to build a new image for Japan in the 21st century.
---
Home Page in English