Messages from Keidanren Executives
April, 2018
Building a Collaborative Framework for Strengthening Cyber Security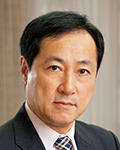 Yasuhiro SATO Vice Chair of the Board of Councillors, Keidanren
Chairman of the Board, Mizuho Financial Group, Inc.
As society adopts the technologies born from the "fourth industrial revolution" and we seek to achieve Society 5.0, businesses will be looking to further integrate data into everything we do. In this age of the Internet of Things (IoT), as many of the objects we interact with in the physical world are connected to the Internet, the key thing to consider is how we use the data that is collected.
Additionally, as the IoT becomes more and more advanced, strengthening cyber security will become more important than ever. While the use of data provides clear benefits in terms of economic impact, it also presents concerns regarding cyber security and the protection of personal information. When using collected data for business purposes, companies will need to strengthen their security in order to protect this data and mitigate risk. Not only is this necessary in order to prevent such risks from spreading to affect entire IT systems, but it also contributes to risk decentralization within society as a whole.
As companies' operations become more globalized, responding to cyber security threats has become more complex as every country has different regulations and every company has adopted different cyber security measures. In Japan, this issue is compounded by a lack of cyber security specialists, and therefore collaboration and partnerships are essential.
From this perspective, the government-led Capability for Engineering of Protection, Technical Operation, Analysis and Response (CEPTOAR) has enabled better information sharing and warnings regarding information security incidents occurring in different industries in Japan as well as providing joint seminars, training, and other learning opportunities applicable to multiple business sectors. The Information Sharing and Analysis Center (ISAC) has also enabled firms in the finance industry, ICT industry (e.g. telecoms, broadcasters, and IT companies), and the electric power industry to share industry-specific information in real-time.
This kind of transparency is an effective means of encouraging companies to strengthen their cyber security measures by providing clarification regarding which specific measures need to be put in place and up to what security level. Going forward, expanding these programs for sharing security incident information will be essential in order to protect society from the downsides of a more connected world.
In terms of international cooperation, at the recent Ise-Shima Summit, support was shown for the G7 Principles and Actions on Cyber and there was agreement regarding the need to cooperate on policy for promoting security within cyberspace, emphasizing the importance of further strengthening international cooperation and partnership in this area.