About Keidanren
About KEIDANREN
KEIDANREN (Japan Business Federation) is a comprehensive economic organization with a membership comprised of 1,512 representative companies of Japan, 107 nationwide industrial associations and the regional economic organizations for all 47 prefectures (as of April 1, 2023).
Its mission as a comprehensive economic organization is to draw upon the vitality of corporations, individuals and local communities to support corporate activities which contribute to the sustainable development of the Japanese economy and improvement in the quality of life for the Japanese people.
For this purpose, KEIDANREN establishes consensus in the business community on a variety of important domestic and international issues for their steady and prompt resolution. At the same time, it communicates with a wide range of stakeholders including political leaders, administrators, labor unions and citizens. It encourages its members to adhere to the Charter of Corporate Behavior in an effort to establish and maintain public confidence in the business community. It also strives for the resolution of international issues and the development of closer economic relations with various countries through policy dialogue with the governments and economic associations of each country as well as international organizations.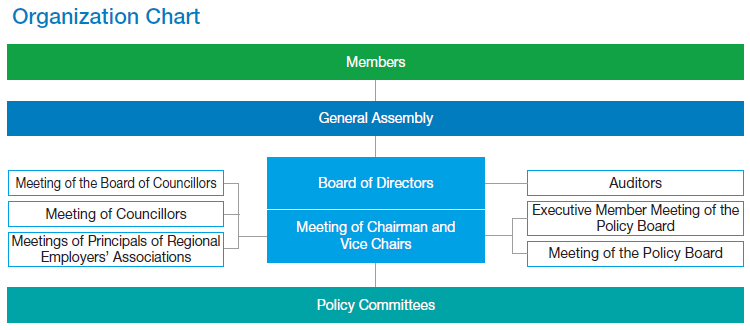 Overview of KEIDANREN
Name:

Ippan Shadan Hojin Nippon Keizai Dantai Rengokai
KEIDANREN (Japan Business Federation)

Objectives (Article 3 of the Articles of Incorporation):

The objectives of Keidanren as a comprehensive economic organization are to contribute to the self-sustained development of the Japanese economy and the improvement of the lives of citizens, by drawing out the dynamism of corporations as well as that of the individuals and communities that support them.

Established:

August 16, 1946

Authorized as an incorporated association:

June 29, 1961

Transition to a general incorporated association:

March 30, 2012

Representative Directors:

TOKURA Masakazu, Chairman
KUBOTA Masakazu, President

Directors:

27

Auditors:

2

KEIDANREN is a corporation with an Accounting Auditor.

Membership:

Corporate members: 1,512 Group members: 154, Special members: 33,
Total: 1,699 members (as of April 1, 2023)

Secretariat:

Staff members: 228 (including temporary staff, as of April 1, 2023)
History of KEIDANREN
Japan Federation of Economic Organizations (Keidanren) was established in August 1946, immediately after the end of World War II, with the aim of reconstruction and recovery of the Japanese economy. Keidanren's first Chairman was Ichiro Ishikawa (1946-56). In April 1948, Japan Federation of Employers' Associations (Nikkeiren) was launched with the objective of establishing appropriate relations between labor and management, with the motto "Employers, Be Righteous and Strong". Nikkeiren's first Representative Executive Director was Kanichi Moroi (1948-68).
Since then, the two organizations have contributed to the development of the Japanese and global economies through maintaining and stimulating a free and open economic model and taking on internal and external challenges that the business community faced, such as liberalization of trade, promotion of free competition, promoting measures for addressing energy and environmental issues, promotion of private sector economic diplomacy, wage negotiations, and establishment of stable labor-management relations. Keidanren's Chairman Taizo Ishizaka (1956-68) emphasized that the business community must take the high road of liberalization, and helped achieve liberalization of capital.
In 1966, the original Keidanren Kaikan building was completed, and the organization continued its further development. Keidanren Chairman Toshio Doko (1974-80) used his experience gained through work on the streamlining of factory production to streamline government (administrative reform). Since the tenures of Keidanren Chairman Doko, Nikkeiren Chairman Bunpei Otsuki (1979-87), and Nikkeiren Chairman Eiji Suzuki (1987-91), the major roles of Keidanren and Nikkeiren in contributing to administrative and fiscal reforms have become a common knowledge amongst Japanese public.
Japan, although having achieved economic growth, era of trade friction arrived. In order to overcome, succeeding Keidanren introduced concepts such as "Philosophy of Endurance" by Keidanren Chairman Yoshihiro Inayama (1980-86); "Need of Co-existence" by Keidanren Chairman Gaishi Hiraiwa (1990-94); and "Attractive Japan" by Keidanren Chairman Shoichiro Toyoda (1994-98); so that Japanese companies accepted as good corporate citizens in the international society.
Amid the trend toward a declining birthrate and an aging population as well as diversification in Japanese peoples' mind sets and values sets, structural reforms of the social security system, labor market, and educational system have become indispensable for enhancing business competitiveness. Therefore, in 2002, Keidanren and Nikkeiren merged to form the Japan Business Federation as a new comprehensive economic organization to address the crosscutting issues. The first Chairman of new Keidanren was Hiroshi Okuda (2002-06).
In 2009, the new Keidanren Kaikan building was completed. On March 30, 2012, to comply with changes in legal framework around non-profit organizations, Keidanren changed its legal status from an incorporated association to a general incorporated association.
Keidanren has not only worked on the Japanese government to implement its policy proposals on various key issues, but also has released comprehensive and long-term development strategies for Japan at home and abroad. The chairman vision statements broadly presented the future image of the Japanese economy and the society as well: "Envisioning a Vibrant and Attractive Japan" (Chairman Okuda, 2003), "Land of Hope, Japan" (Chairman Mitarai, 2007), and "Toward the Creation of a More Affluent and Vibrant Japan" (Chairman Sakakibara, 2015). The "Sunrise Report" (Chairman Yonekura, 2010) declared the setting-up and promotion of business-led projects to enhance industrial strength.
Ever since Chairman Okuda became a private-sector member of the Council on Economic and Fiscal Policy (chaired by Prime Minister Koizumi at the time), Keidanren's Chairmen have been private-sector members at important government meetings to participate in government policy discussions in a wide range of fields, including economy, government finance, industry, and science and technology. Contributions made by Chairman Sadayuki Sakakibara (2014-2018) at meetings such as the Council on Economic and Fiscal Policy, the Council on Investments for the Future, and the Council for Designing 100-Year Life Society, recommendations made by Keidanren have been reflected in the Japan Revitalization Strategy and other initiatives of the Abe Cabinet.
As Japanese companies engage in business activities on a global scale, Keidanren's activities are also expanding from domestic to the global stage.