About Keidanren
Chairman's Message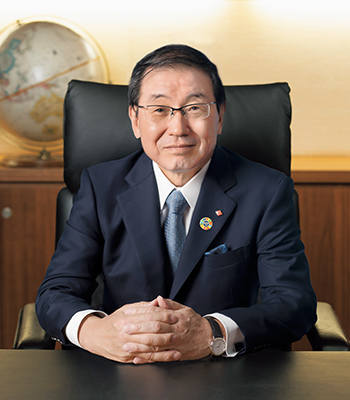 In 2022, the third year since the COVID-19 pandemic began, the world was faced with a new threat in the form of Russia's invasion of Ukraine. Such an attempt to change the status quo unilaterally using force is simply inexcusable. For the sake of the Ukrainian people, who are suffering unimaginable hardship, I sincerely hope that the war will be over as soon as possible.
A free and open international economic order is essential to enable companies to engage in business activities globally. Keidanren is taking every opportunity to call on the G7 nations and other members of the international community to adopt a unified response to Russia's invasion of Ukraine, which is seriously destabilizing the established international order economically, as well as in terms of national security.
Meanwhile, excessive emphasis on shareholder capitalism and market principles has resulted in a range of social issues including destruction of the natural environment and ecosystems, and the widening and replication of economic disparities. These issues have become even more pronounced during the COVID-19 pandemic. Of course, it goes without saying that capitalism is an excellent system that is a fundamental necessity for economic activities including free and vigorous competition, efficient allocation of resources, and the successful pursuit of innovation. Capitalism is, moreover, capable of overcoming social issues, and it is therefore imperative for the Japanese business community to practice an updated form of sustainable capitalism to achieve societal goals. These include making Japanese industry more competitive to create a virtuous cycle of growth and distribution, conserving the natural environment, restoring a substantial middle class, making society fairer and more equitable, and preparing to deal with emergencies.
Practicing sustainable capitalism requires first and foremost that the natural environment in which we live is sustainable. Keidanren is therefore focusing its efforts on green transformation with its sights set on Japan's extremely challenging goals of a 46 percent reduction in greenhouse gas emissions by 2030 and carbon neutrality in 2050.
Including the above, Keidanren has set the following as its priority initiatives for the fiscal year ending March 31, 2023 (fiscal 2022): (1) strengthen collaboration to rebuild a free and open international economic order; (2) implement COVID-19 measures targeting an exit strategy: shift the focus from pandemic to endemic; (3) accelerate green transformation (GX); (4) pursue digital transformation (DX); (5) establish Japan as a nation built on science and technology, and strengthen its industrial competitiveness; (6) promote startup; (7) promote transformation of work styles, investment in people, and educational reform; (8) revitalize local society and economy; and (9) promote fiscal consolidation and reforms to the social security and taxation systems.
Amid drastic changes both in Japan and overseas, Keidanren will continue to communicate impartial opinions from the social point of view at home and abroad. I look forward to the continuing support and cooperation of all our member companies during fiscal 2022.
KEIDANREN (Japan Business Federation)
Chairman
TOKURA Masakazu