About Keidanren
Chairman's Message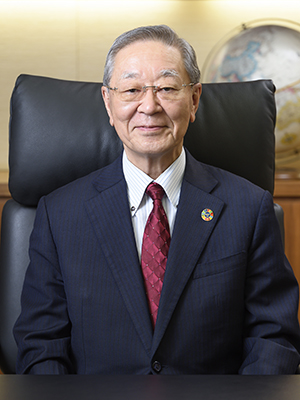 The novel coronavirus (COVID-19) pandemic has dealt a heavy blow to the entire world, and the priority for fiscal 2020 will be bringing it under control. In collaboration with all our member companies, Keidanren will make every effort to encourage teleworking and staggered work hours, and swiftly curb the spread of infection. At the same time, we will fulfill our social mission to protect people's lives and livelihoods by supplying medical goods and equipment and cooperating in the manufacture of such items. Keidanren will also do our utmost to maintain supply chains and employment. Moreover, we will make timely efforts to urge the government and ruling coalition to swiftly take necessary measures, while monitoring the effects of government responses.
The pandemic has been a sharp lesson in just how quickly the spread of infection can cause a serious situation, and now is the time to build a resilient economy and society that can withstand such emergencies. First of all, Keidanren needs to promote thorough regulatory reform, digitalization, and data-sharing across all fields — including healthcare, education, public administration, finance, and industry — in the aim of using digital technology to strengthen growth strategy. Speeding up digital transformation will help us to realize Society 5.0, a goal that has been shared by Keidanren and the government, and feed into achievement of the United Nations Sustainable Development Goals (SDGs). Given the frequent occurrence of large-scale natural disasters in recent years, climate change is another pressing issue to be addressed in parallel with infection control. In the aim of achieving decarbonized society, Keidanren will work to create an environment that encourages investment in facilities and R&D, and encourage the building of advanced and resilient electricity and energy systems developed with a focus on digitalization. At the same time, Keidanren will try to pursue work style reforms and human resource development initiatives and strive to invigorate regional economies.
On the global stage, as the COVID-19 pandemic sweeps the world, there are fears of divisions in the global community, such as increasing hostility between the US and China. Since restoration of a free and open international economic order is essential to global economic development, Japan needs to display firm leadership in this regard. Keidanren will proactively engage in private-sector diplomacy through close cooperation with the Japanese government and overseas business organizations. At the same time, we will call upon the government to create an environment conducive to maintenance, diversification, and greater resilience of corporate supply chains, taking account of economic security.
With our sights set on returning to normality as quickly as possible and building a resilient economy and society while also preparing to live with COVID-19 for a prolonged period, I look forward to continuing support and cooperation from all our member companies.
Chairman
NAKANISHI Hiroaki
(Executive Chairman, Hitachi, Ltd.)