About Keidanren
Chairman's Message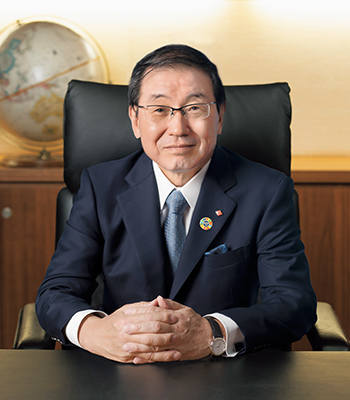 Having assumed office as chairman of Keidanren this year, I look forward to continuing this organization's work in collaboration with our member companies.
In November 2020, Keidanren published ". The NEW Growth Strategy," in which it advocated sustainable capitalism. The title of this policy proposal signifies our strong intention to put a period to conventional growth strategies and to indicate a new one, by redefining the purpose of economic activity anew as the basis for a new start.
It still remains the case that adherence to a free and vibrant competitive environment is vital for economic prosperity. However, companies must reflect sincerely on the fact that excessive capitalism caused economic disparities to increase and become entrenched, in addition to causing ecological destruction such as global warming. And, what is more, this pandemic has exacerbated these problems.
Even if digitalization and globalization are tides of the times that cannot be held back, when I seriously consider whether continuing on our established path of capitalism can truly bring happiness and whether the current generation can pass an abundant world on to future generations, I find that I am naturally led in the new direction of sustainable capitalism.
Keidanren is currently treating measures to address COVID-19 as an urgent priority issue and dedicating its efforts to balancing prevention of COVID-19 infection with economic activities. We are in the process of reinforcing our initiatives to reach the challenging targets of carbon neutrality in 2050 and a 46 percent reduction in greenhouse gas emissions by 2030. To that end, we are fleshing out our existing Commitment to a Low Carbon Society to develop "Carbon Neutrality Action Plan" . Meanwhile, artificial intelligence (AI) and other digital technologies facilitate solutions that allow us to balance the achievement of individual well-being with the optimization of society as a whole. Digital transformation (DX) is therefore an indispensable tool for bringing about the type of all-inclusive society targeted under the "Society 5.0 for SDGs" vision. I believe that creating this type of Society 5.0 is the only path toward making capitalism sustainable.
Taking the above into account, ". The NEW Growth Strategy," sets out a future vision to be realized in 2030, focused on five key areas: new growth through DX, transformation of work styles, regional revitalization, rebuilding the international economic order, and realization of green growth. Backcasting from the future vision, the strategy proposes a range of policies in those five key areas.
Keidanren will deploy every opportunity to publicize this approach through coordination with the Japanese government and other means. We are determined to take the initiative in establishing sustainable capitalism, seeking to earn the understanding and support of Japanese citizens at every level of society, and of countries and territories outside Japan. As we do so, I look forward to continuing support and cooperation from all our member companies.
Chairman TOKURA Masakazu
(Chairman of the Board, SUMITOMO CHEMICAL Co., Ltd.)