Messages from Keidanren Executives
November, 2018
Realizing a Barrier-free Society through the Power of Sport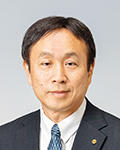 Shigeru HAYAKAWA Vice Chair, Keidanren
Vice Chairman, Toyota Motor Corporation
May 26, 2018, Yokohama Arena. Alvark Tokyo wins the 2017-2018 B. LEAGUE Final and is crowned the 2017-2018 B. LEAGUE champion. On that day, I was extremely moved, having been a club advisor for the Toyota Motors Alvark Tokyo team for 7 years, including time as a club advisor for the former team.
Looking back, it took less than 6 months following my appointment as a club advisor for my life to change completely. Playing basketball in high school, I think I was naturally drawn to sport. I went to Alvark Tokyo's games whenever my schedule allowed; I watched their practices, and I encouraged their cheerleaders. This routine made me feel healthier and as if my brain somehow worked faster. Before I knew it, 7 years had passed, and I had come to realize the power of sport.
Speaking of the power of sport, approximately 5 years ago, a TV commercial for Guinness featuring wheelchair basketball became a hot topic (this commercial can still be seen through services like YouTube). In the commercial, after a spirited game of wheelchair basketball, one player suggests everyone go out for a drink. All the players, except one, proceed to step out of their wheelchairs. The one player who remains seated has an impairment, and uses a wheelchair. Here, we learn that the able-bodied players were playing wheelchair basketball so they could include their friend. As portrayed in the famous movie Invictus, sport has the ability to remove the barriers that exist in people's minds. The Guinness commercial poignantly portrayed the power of sport in a few seconds' time, touching people's hearts. That commercial is a prime example of how corporations can change communities for the better through the power of sport.
I believe that "Unified Sports," where able-bodied people and people with impairments play together, can be a major driving force in accomplishing the difficult task of realizing a genuine barrier-free society. The Special Olympics offers people with intellectual impairments the opportunity to play sport, and is also working on expanding Unified Sports. "We are all different. We are all the same." With several major sporting events taking place between 2019 and 2021, I sincerely hope people pay close attention to Unified Sports, and in particular, the Special Olympics.