Messages from Keidanren Executives
February, 2019
Pristine Oceans for the Future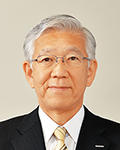 Hideki KOBORI Vice Chair of the Board of Councillors, Keidanren
President & Representative Director, ASAHI KASEI Corp.
Every January I visit Hokuriku for a gathering of major customers and other key stakeholders in the region. I always look forward to meeting many important acquaintances, and also to enjoying the area's wonderful seafood. The winter fish of Hokuriku is truly outstanding, the bounty of a clean sea.
Ocean plastic pollution is reaching a crisis level. A whale beached in Thailand last year was found to have over 80 plastic bags in its stomach, and one in Indonesia had over 1,000 items of plastic debris, including cups and bags. The images are shocking. It's said that the amount of ocean plastic will equal the mass of all the fish in the ocean by 2050.
The Keidanren has held various discussions and presented opinions regarding the Japanese government's formulation of strategy for plastic resource recycling. Solving the ocean's plastic problem is recognized as one of the most vital tasks.
The government is planning to publish a long-term strategy for plastic resource recycling at the time of the Osaka G20 Summit in June 2019. We expect this will include extremely ambitious and challenging targets for the chemical industry. Ocean plastic waste and Japan's domestic plastic recycling are two different problems that each requires appropriate measures. Providing safety, peace of mind, and convenience, plastic is indispensable for modern life. Using plastic well will entail a range of measures including thorough reduction, reuse, and recycling (the 3Rs), proper disposal of waste, and the development of new materials.
Japan, one of the leading maritime nations, will be in the world's spotlight for the Tokyo Olympics and Paralympics in 2020 and the Osaka World Expo in 2025. By leading the world in the development of technology and systems in the field of plastic, Japan can contribute to the UN's Sustainable Development Goals No. 12 "Responsible Consumption and Production" and No. 14 "Conservation and Sustainable Use of the Oceans." My most ardent wish is for future generations to enjoy delicious fish from the pristine sea.