Messages from Keidanren Executives
August, 2021
Incorporating the Advantages of Online Formats to Generate New Possibilities for Industry-Academia Collaboration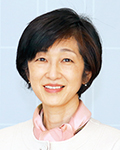 Noriko TAKEUCHI Vice Chair of the Board of Councillors, Keidanren
President, Congrès Inc.
Collaboration between industry and academia has been taking place in many ways over the years. Then, the COVID-19 pandemic hit the world starting in 2020, compelling both universities and corporations to seek solutions to address the new era and new methods for human resource development.
Our company's domain, MICE (Meetings, Incentive Travel, Conventions, Exhibitions/Events) has a deep-rooted connection with not only industry, but also with universities and research institutions, as fora that debate scholarly and scientific issues. There are indeed high expectations for MICE as an engine to drive revitalization of regional areas and human resource development in academia and industry.
In collaboration with Nagasaki City, in April, 2021 we launched a "MICE Talent Development Program" at the Faculty of Economics, Nagasaki University. The program is linked to the large-scale MICE facility "Dejima Messe Nagasaki" project that Nagasaki City is driving forward under a PFI (social capital improvement utilizing private financing) scheme, slated to open in November this year, directly connected to JR Nagasaki railway station. Student-planned events will be held at Dejima Messe Nagasaki, as part of the facility's inaugural events.
Students ask us serious questions about how to turn events into a business, which in parallel gives our employees weekly opportunities to re-examine the significance of our work and working methods. If the program could serve as a catalyst for students to think about the future of the community, lead to contributing to the regional community through work, and develop human assets who will play an integral role in future urban planning, nothing would give us greater pleasure.
This February, I had the opportunity to speak at the "Happy Career Program - Cultivating Women Leaders Course" hosted by Kwansei Gakuin University, a pioneer in recurrent education for women. Many of the students are active at the forefront in corporations. This course provides precious opportunities to engage in discussion based on real-life experiences, something they would not be able to experience in corporate in-house training, with fellow students having diverse backgrounds and sets of values, and establish a network.
Participating in the program online, I sensed that in addition to the inspiration one can gain from in-person seminars, exploiting the advantages of the online format that has become widespread on account of COVID-19, will definitely expand the possibilities for recurrent education.
Let's start by tackling something we can do. The industry-academia collaborative technological innovation and student/employee human asset development that is generated thereby will slowly but surely bear fruit.