Messages from Keidanren Executives
March, 2022
Human Rights Issues for Business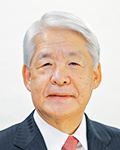 Masaya FUTAMIYA Vice Chair of the Board of Councillors, Keidanren
Director - Chairman, Sompo Japan Insurance Inc.
Former U.N. Secretary-General Kofi Annan, who called for "human security" at the U.N. Millennium Summit in 2000, passed away in 2018, and Professor John Ruggie, an international political scientist who compiled Guiding Principles on Business and Human Rights under Annan's direction, also passed away last year. Their wishes have yet to be realized. In this context, human rights and labor issues in supply chains have become a matter of substantial concern. Major EU countries are accelerating the implementation of mandatory human rights due diligence.
In Japan, the Corporate Governance Code, revised last year, includes respect for human rights, indicating that respect for human rights is an important management issue. However, although the number of member companies taking measures based on the Guiding Principles is increasing, it is still in the middle of the road. Keidanren has expanded the human rights section of the "Guidelines for the Implementation Guidance on Charter of Corporate Behavior," and has formulated a handbook with specific measures to encourage companies to take action.
In addition to reducing the negative impact of business operations on people, proactive approaches to human rights due diligence should also be focused on its positive impact they can have on growth strategies, such as enhancing public trust, attracting talented people, and improving the company's international competitiveness.
The starting point for Japanese companies is to understand the background of respect for human rights and to have their management commit to it as an essential management issue. On top of that, Japanese companies should pay close attention to the due diligence throughout supply chains and steadily implement measures considering materiality and salience.
The challenges faced by vulnerable groups are becoming increasingly severe due to widening disparities, ecological crisis, climate change, and the impact of the coronavirus pandemic. Despite the need for a global response that transcends national borders, international cooperation is facing a crisis such as the intensifying U.S.-China conflict.
From fragmentation to solidarity, from confrontation to cooperation. "Human security," which goes beyond national boundaries and protects human lives, livelihood and dignity, free from fear and want, is a concept that Japan has long advocated for the world. Now is the time for companies to see the issue of human rights as their own matter, and, without turning means into ends, place this concept at the root of everything to tackle global issues.