Policy Proposals Environment and Energy
Results of Fiscal 2014 Follow-up to the Commitment to a Low Carbon Society
(Fiscal 2013 Performance) (Preliminary Version)
December 16, 2014
Keidanren
1. Keidanren's measures on global warming
(1) Keidanren has been promoting a "Voluntary Action Plan on the Environment" for independent and proactive measures against global warming. As a result, the carbon dioxide (CO2) emissions in the industrial/energy-conversion sectors for fiscal 2008-2012 on average declined 12.1 percentage points from fiscal 1990.

(2) Since fiscal 2013, Keidanren has been pushing measures based on the "the Commitment to a Low Carbon Society," which has expanded on the content of the voluntary action plan. Currently, 55 industry groups are tackling the issue in line with the four pillars described in 2. (1)-(4) below.
2. Summary of the results of Fiscal 2014 Follow-up

(Fiscal 2013 Performance)
(1) Emissions from domestic business activities
Our country's energy efficiency is already of the world's highest standard, and there is little room for reducing CO2 emissions. Despite this situation, participating industries are continuing maximum reduction efforts.
As a result, CO2 emissions for fiscal 2013 dropped 5.6 percentage points from fiscal 2005 in the industrial sector (31 industry groups), increased 7.5 percentage points in the energy-conversion sector (3 industry groups) and decreased 11.2 percentage points in the transport sector (5 industry groups).
CO2 Emissions by Sectors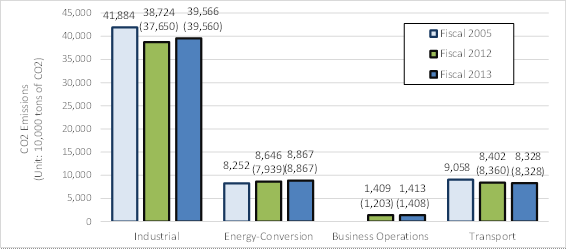 (Note)
Fiscal 2005 emissions for commercial sector is not listed in consideration of data collecting situation.
Fiscal 2005 emissions for transportation sector is total of four industry groups.
CO2 emissions after taking into account carbon credits entered in parentheses.
(2) Contribution through energy-saving products and services by enhancing cooperation between parties
Participating industries contribute to CO2 emission reduction not only in the manufacturing process but also through provision of low-carbon products and services. For example, cooperation by various industries to make high-quality materials or products leads to the reduction of CO2 emissions while an automobile is being driven.
In addition, measures that lead to such moves by the people are being promoted. Public relations and educational activities are being conductedin the hope that increased awareness and knowledge among people about global warming will lead to actions such as energy saving, use of low-carbon products and services in a proactive manner.
(3) Promoting contributions on the international level
From the standpoint of measures against climate change on a global scale, it is important to disseminate our country's excellent energy-saving and low-carbon technologies and products abroad. To this end, participating industries implement measures such as transferring manufacturing processes overseas, exporting products and conducting personnel training in developing countries.
(4) Development of innovative technologies
To promote measures in the above three pillars on the medium- to long-term, participating industries develop innovative technologies and work on practical applications.