Policy Proposals Middle East and Affrica
Chairman Sakakibara Attends Sixth Tokyo International Conference on African Development (TICAD VI)
A Discussion on Africa's Future Development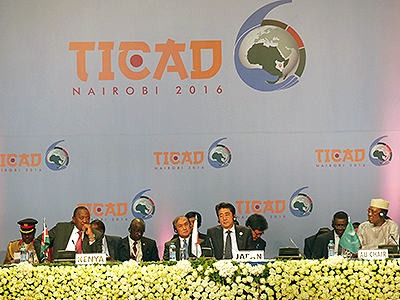 The Sixth Tokyo International Conference on African Development (TICAD VI), co-organized by the Government of Japan, the United Nations, the World Bank, the United Nations Development Programme (UNDP), and the African Union Commission (AUC), was held on August 27 and 28 in Nairobi, Kenya. TICAD is an international forum on the theme of African development launched by Japan in 1993, and this was the first time it was held in Africa.
TICAD VI was attended by 11,000 participants, including government officials from Japan, Africa, and other partner countries, as well as members of the business community and international organizations. From Keidanren, Chairman Sadayuki Sakakibara, Vice Chair Shunichi Miyanaga, Vice Chair Masami Iijima, Vice Chair of the Board of Councillors and Chair of the Committee on Sub-Saharan Africa Kunio Noji, Chair of the Committee on Sub-Saharan Africa Yutaka Kase, Chair of the Committee on the Middle East and North Africa Osamu Ishitobi, and others attended.
Outline of TICAD VI
At the Opening Session, President Uhuru Kenyatta of Kenya stated, "For the African market to achieve high growth and prosperity, we must press for free and fair trade and for deeper economic integration, and develop and utilize the human resources who support economic growth." This was followed by Prime Minister Shinzo Abe's address. The Prime Minister noted, "To build a quality, resilient, and stable Africa, the public and private sectors will collectively contribute to implement programs, including quality infrastructure development, which is a strength of Japan, and human resource development for approximately 10 million people who support industries."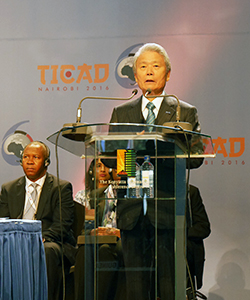 On August 28, a policy dialogue took place with the private sector, attended by Prime Minister Abe, President Kenyatta, leaders of other African countries, and members of the business community from Japan and Africa. Chairman Sakakibara delivered a keynote address in which he stated, "Africa has achieved strong economic growth underpinned by its rich natural resources. Furthermore, it has a population exceeding 1 billion people and a growing middle class. Driven by these factors, Africa is home to a burgeoning massive consumer market that holds much promise and is gaining global attention. With TICAD VI as a turning point, Japanese companies will build upon their strengths and coordinate with the Japanese government in collaborating to promote Africa's development in such areas as human resource development, quality infrastructure development, and the strengthening and industrialization of the agriculture and fishery industries." In addition, the Chairman announced the TICAD VI Business Declaration that enshrines the Japanese business community's continued commitment to forge a stronger partnership with Africa.
Overview of Nairobi Declaration and Business Declaration
TICAD VI concluded with the compilation of the outcome document, the Nairobi Declaration. The Nairobi Declaration identifies three priority areas for promoting Africa's development and prosperity: (1) promoting structural economic transformation through economic diversification and industrialization; (2) promoting resilient health systems for quality of life; and (3) promoting social stability for shared prosperity. To this end, it commits to engaging in various efforts, including to supply renewable energies, develop quality infrastructure, develop industrial human resources, provide health services, promote access to water and sanitation, secure food, and reduce disaster risks.
Keidanren will conduct follow-ups of TICAD VI to further deepen economic exchanges between Japan and Africa, and collaborate on efforts to further improve the business environment in Africa based on the Business Declaration.