Policy Proposals Asia and Oceania
Second Japan-China CEO and Former Senior Officials' Dialogue
Exchange of Views for Expanding and Deepening Cooperation between Japanese and Chinese Business Communities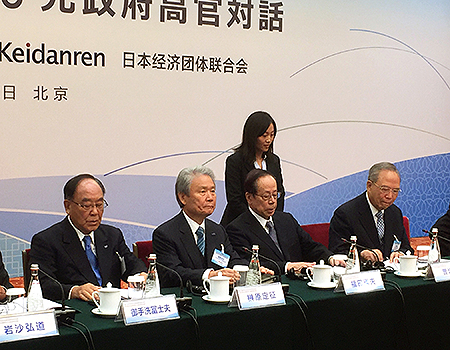 On November 1 and 2, Keidanren (Chairman Sadayuki Sakakibara) and the China Center for International Economic Exchanges (CCIEE) held the second Japan-China CEO and Former Senior Officials' Dialogue in Beijing. From Japan, 30 members attended, including Chairman Sakakibara and former Prime Minister Yasuo Fukuda. From China, 34 members attended, including CCIEE Chairman Zeng Peiyan, former Vice Premier of the State Council. In addition, Chinese government dignitaries attended as guests, including Premier Li Keqiang, Chairman Xu Shaoshi of the National Development and Reform Commission, Minister of Finance Lou Jiwei, and Governor Zhou Xiaochuan of the People's Bank of China.
Chairman Sakakibara delivered an address, stating, "Japan and China are mutually indispensable partners that have an extremely close relationship, and efforts will continue to be made to further develop our cooperative relations in the economic and industry areas. For this to happen, it is vital that the heads of leading companies in Japan and China further enhance mutual understanding through a series of dialogues, and deepen discussion to flesh out new measures for collaboration and cooperation."
Chairman Zeng remarked, "It is critical that we make use of various opportunities to promote exchanges and take proactive actions from a long-term perspective in order to strengthen China-Japan relations. The Chinese and Japanese business communities must build upon the efforts of their predecessors in holding active economic exchanges, deepening mutual understanding, and building up momentum for further improving the bilateral relationship."
Premier Li stated that candid and constructive dialogues among business leaders play a significant role in strengthening China-Japan relations, and that he expects companies in the two countries to contribute to developing the bilateral relationship from the economic domain by enhancing mutual understanding through dialogue.
During the two-day meeting, the two sides exchanged constructive and frank views regarding the current situation and the outlook of the Japanese and Chinese economies, as well as future measures for expanding and furthering bilateral economic and industry cooperation in such areas as "trade, investment, and finance," "innovation," and "infrastructure, energy and environmental protection." A joint statement was also compiled that summarizes these discussions.
* The joint statement is available on Keidanren's website.
http://www.keidanren.or.jp/policy/2016/097.html (Japanese)