Policy Proposals Asia and Oceania
Mission to Vietnam Visits Hanoi and Ha Nam Province
Keidanren (the Japanese Business Federation) dispatched a mission to Vietnam from December 7 to 9, 2017, including visits to Hanoi and Ha Nam Province. Comprising around 40 people, the group was headed by Kuniharu Nakamura and Hideo Ichikawa, chairs of the Japan-Vietnam Economic Committee.
The party met with Vietnamese government leaders in an effort to promote concrete improvements to the business environment, such as the development of infrastructure and supporting industries, the early entry into force of TPP 11 (the Comprehensive and Progressive Agreement for Trans-Pacific Partnership), and the early implementation of a high-quality RCEP (Regional Comprehensive Economic Partnership). The visit also coincided with the final evaluation meeting for Phase 6 of the Vietnam-Japan Joint Initiative, a collaborative venture between the two countries launched in 2003 for the purpose of improving the Vietnamese business environment.
Hanoi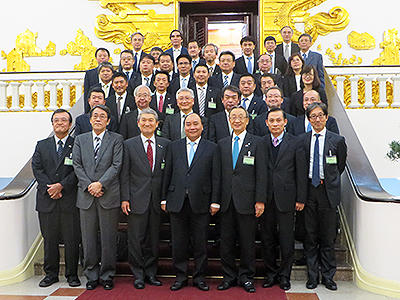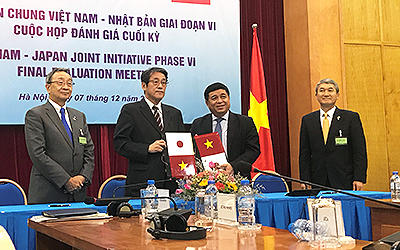 In Hanoi, the mission held meetings with Prime Minister Nguyen Xuan Phuc, Minister of Planning and Investment Nguyen Chi Dung, Minister of Trade and Industry Tran Tuan Anh, Vietnam Chamber of Commerce and Industry (VCCI) President Vu Tien Loc, and other dignitaries from the public and private sectors, as well as the Japan Business Association in Vietnam (JBAV) and other members of the Japanese business community in Vietnam.
During this series of meetings, the Vietnamese side expressed their strong appreciation for Keidanren's contributions to various activities, including improvements to the investment environment, development of the economy and trade, and the Vietnam-Japan Joint Initiative. They also indicated their understanding of issues pointed out by the Japanese side such as the need to promote free trade, develop infrastructure, and improve the investment environment, and expressed their expectations to collaborate in implementing specific advice and measures aimed at resolving issues such as improving productivity, HR development, technical support, and technology transfer. Furthermore, they expressed appreciation for Japan's cooperation in achieving broad agreement on TPP 11 and indicated their intention to take consistent and transparent steps aimed at promoting international economic integration through the RCEP as well.
A combined 130 representatives from both countries attended the final evaluation meeting for Phase 6 of the Vietnam-Japan Joint Initiative, including Chair Nakamura, Chair Ichikawa, Japanese Ambassador to Vietnam Kunio Umeda, and Minister of Planning and Investment Dung, who served as the initiative's co-chairs. Following discussions held over a period of a year and a half by seven working teams (on labor, wages, transport and logistics, the service industry, support for SMEs, the Investment Law and Enterprise Law, and pharmaceutical importing) involving public and private sector representatives from both countries, Phase 6 resulted in advances such as clarification of permit application procedures and contact points for various types of service industry business and clarification of the regulations on foreign investment in pharmaceutical importing business. A memorandum agreeing to continue with the next phase of the initiative was also signed.
Ha Nam Province
During the visit to Ha Nam Province on the final day, the mission held a meeting with officials including Ha Nam Province Communist Party Committee Secretary Nguyen Dinh Khang and Mai Tien Dung, Minister, Chairman of the Office of the Government, who is a former Secretary of Ha Nam Province. Minister Dung stated that Vietnam would solicit investment from abroad, especially from Japanese companies, and presented a variety of incentives to be offered, which are expected to increase investment. Before and after the meeting, the mission also gathered information about the local business environment, including tours of Dong Van industrial park and factory run by Japanese company.
The mission revealed that Vietnam has a strong desire to further enhance relations with Japan, which it considers a key partner. Going forward, Keidanren will continue to work on building closer ties between the two countries.