Policy Proposals Environment and Energy
Contributing to Avoided Emissions through the Global Value Chain
- A new approach to climate change measures by private actors -
November 13, 2018
April 11, 2023 (Fifth Edition)
Keidanren
---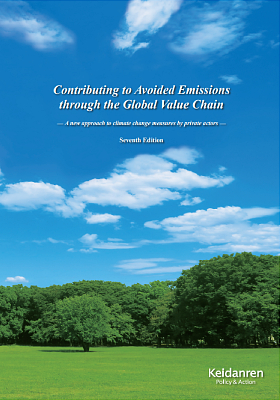 This Concept Book explains the idea and significance of avoided emissions through the global value chain (GVC).
In the second half, it also introduces case studies of various industries and companies "visualizing" the avoided emissions achieved through a variety of products and services.
https://www.keidanren.or.jp/en/policy/vape/gvc2018.pdf
contents
Preface
1. How can we avoid emissions through the Global Value Chain?
Today, climate change measures by various actors are required.
Climate change issues are not confined to one single country but are a global concern.
Let us turn our eyes to CO2 emissions from the entire value chain.
Avoiding emissions through the GVC will lead to climate change measures on a global scale.
2. Case Studies
List of Case Studies
Points to be kept in mind when reading the Case Studies
Guide to Case Studies
Case Studies

The Japan Iron and Steel Federation

High Strength Sheets for Automobiles
High Tensile Plates for Vessels
Generating Boiler (Heat-resistant Tubes)
Grain-oriented Silicon Steel Sheets for Transformers
Stainless Steel Sheets for Railway Cars

Japan Chemical Industry Association

Polyethylene terephthalate from biomass
Desalination plant by means of the RO membrane process
Aircraft that use plastics reinforced with carbon fiber

Japan Paper Association
Hyogo Pulp Industries, Ltd.
NIPPON PAPER CRECIA CO., LTD.

Waste and CO2 reduction by long length toilet roll and paper packing toilet roll

Liaison Group of Japanese Electrical and Electronics Industries for Global Warming Prevention

Contribution to CO2 emission reductions by energy efficient products and services in Japanese Electrical and Electronics industries

Japan Automobile Manufacturers Association, Inc.

xEVs (Hybrid vehicle, Plug-in Hybrid vehicle, Electric vehicle, Fuel cell Electric vehicle)

Japan Federation of Construction Contractors

Energy-efficient building design in design-build projects by member companies of the Japan Federation of Construction Contractors

The Japan Automobile Tyre Manufacturers Association, Inc. (JATMA)
Japan Aluminium Association

Aluminium material for Automobile

Flat Glass Manufacturers Association of Japan

Low Emissivity Insulating Glass

The Japanese Electric Wire & Cable Makers' Association

ECSO: Environmental and Economical Conductor Size Optimization

Japan Petroleum Development Association (JPDA)
Brewers Association of Japan

Cooperative distribution in Hokkaido
Weight reduction of returnable glass bottles
Joint collection of beer pallets

Japan Industrial Vehicles Association (JIVA)
The Electric Power Council for a Low Carbon Society (ELCS)

Contribution of overseas power generation projects

The Japan Gas Association

Natural Gas Upstream and Midstream Project (Development of Gas field, Gas Liquefaction Plant, LNG Receiving Terminal, Pipeline and Supply)
Natural gas-fired thermal power plant
Gas Cogeneration System (including energy service)
ENE-FARM (Residential Fuel Cell System)

Telecommunications Carriers Association

HEMS (Home Energy Management Systems)

Japan Foreign Trade Council, Inc.

Renewable power generation business as IPP (Independent Power Producer)

Japan Freight Railway Company
---