Policy Proposals U.S. and Canada
"Continue developments in order to continue to develop globally as an airport city"
- Holding a luncheon gathering with Mayor of Denver and other members from Denver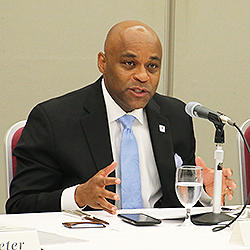 The Planning and Coordinating Sub-Committee, Committee on U.S. Affairs, Keidanren (Chairman Takashi Morimura) gathered on October 19 at the Keidanren Kaikan in Ohtemachi, Tokyo with members and City of Denver representatives and business people including Denver Mayor Michael Hancock, who came to commemorate the 5th anniversary of nonstop flights between Japan and Denver. From Denver, Denver International Airport CEO Kim Day and Denver City Economic Development Office Executive Director Eric Hiraga also participated. Keidanren visited the city of Denver, Colorado, for the US mission in 2016, and had an opportunity then to meet with mayor Hancock and CEO Day.
The outline of the meeting is as follows.
5th anniversary of Denver-Tokyo nonstop flight
One of the purposes of this visit was to celebrate the 5th anniversary of the nonstop flight between Denver and Tokyo. This exciting and frank idea exchanges between Denver and Japanese companies via a roundtable meeting with Keidanren helped commemorate and highlight this important anniversary. The Denver-Tokyo/Narita flight has led to additional connections between Japan and Colorado on the business, academic, tourism and cultural exchanges. It was a great honor to hear many voices explaining how business between Japan and Denver have been enhanced and grown, due to the direct flight service. In recent years, Japanese companies have expanded their business in Denver. We would like to attract more Japanese companies with further developments around Denver International Airport making the areas even more convenient and attractive.
Development as an unparalleled, globally connected airport city
The city of Denver is a modern city that provides a unique blend of urban sophistication and outdoor beauty with the welcoming warmth and pioneering spirit of the West. Rated as the most business-friendly city in the United States, we plan to continue urban development in cooperation with business and companies with a future forward vision.
Although Denver has nine key industries, we are exceptionally strong in technology, energy, aviation, bioscience, finance and beverage production. The number of high-tech workers per capita in the IT field is the third highest in the United States and Denver is strong in the field of innovation. Our population is the second most educated state in the nation. We have 33 federal research and development labs and are within the top 10 states for patent activity per capita. We believe that Denver can contribute to the development and stabilization of neighboring countries as well as our own country by making use of technologies that will evolve in the future. We also believe that Tokyo is the city that leads Asia and will lead to more collaboration between Denver and Tokyo in the future.
Denver International Airport is one of the world's busiest aviation hubs and has service to over 190 total destinations including 26 cities in 12 countries (including Tokyo). 3.5 billion dollars urban development is currently underway in Denver including 39 additional gates at Denver International Airport. Denver International Airport connects to the center of Downtown Denver by railway, and further development will be expected in the future. It is expected to develop as an airport city. The development of Denver is the result of focusing on global connection to the world and that is made possible by the airport development. We have invested on the infrastructure over a period of 10 to 15 years, but we would like to continue to establish a position as an airport city of the 21st century by active investment.