Policy Proposals Trade, Investment, EPA/FTA
Keidanren handed over the B20 presidency to Saudi Arabia
- Chairman Nakanishi met with Mr Al-Benyan, B20 2020 Chair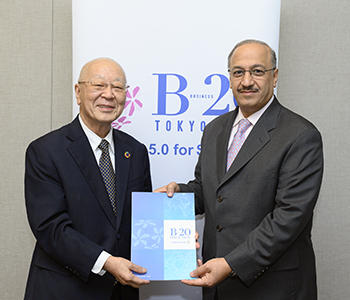 Prior to handing over the G20/B20 presidency from Japan to Saudi Arabia on the 1st of December, Chairman NAKANISHI Hiroaki met with the B20 2020 Chair Mr Yousef Abdullah AL-BENYAN, Vice Chairman and CEO, SABIC on 14th November at Keidanren Kaikan in Otemachi, Tokyo.
At the meeting, Chairman Nakanishi explained the B20 Tokyo Summit Joint Recommendations "Society 5.0 for SDGs", as well as Keidanren's efforts as the B20 Chair. In addition, he expressed his expectations for Mr Al-Benyan's leadership, and declared that Keidanren will provide full support. In response, Mr Al-Benyan expressed his willingness to address issues such as empowering women, SDGs, and SMEs & entrepreneurship, while fully reconginising continuity on key policy areas such as trade and investment as well as digitalisation.
Keidanren hosted the B20 Tokyo Summit on 14th-15th March 2019. As a consequence of vigourous efforts to materialise the Joint Recommendations, nearly 80% of the B20's requests has been duly reflected in the G20 Osaka Summit Leaders' Declarations as well as related Ministerial Declarations.
The B20 Summit in 2020 will be held on 26th-27th October at Riyad in the Kingdom of Saudi Arabia.