September 21, 2022
Keidanren
---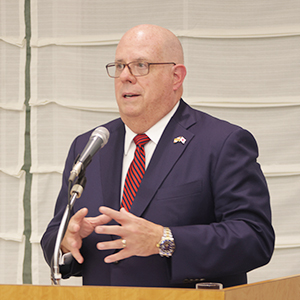 The Keidanren Committee on U.S. Affairs (Chair Shigeru Hayakawa and Chair Yoshiharu Ueki) held a reception on September 21 at Keidanren in Otemachi, Tokyo, on the occasion of the visit to Japan of Governor Larry Hogan of Maryland and his delegation. About 50 people including member companies of Keidanren, officials of the Maryland and Japanese government and related companies participated and actively exchanged opinions. The overview of Governor Hogan's remarks is as follows:
Maryland and Japan share many connections. For example, the sister-state relationship between the state and Kanagawa Prefecture has reached a milestone of 40 years, and Baltimore has long been a sister city of Kawasaki. In addition, more than 100 Japanese companies have operations in the state, creating more than 6000 local jobs, mainly in manufacturing.
Maryland is located along the Atlantic coast of the East Coast of the United States, surrounding the nation's capital. Because of its ideal location, Maryland is attracting attention as a gateway to the United States and other parts of North America. We have "Global Gateway Initiative" to attract more foreign investment. This is an initiative to provide foreign companies with assistance with rent, registration, set-up costs as well as to introduce customers and business partners. Maryland is open to business. We look forward to further strengthening cooperation with Keidanren.
# # #