Executives' Comments Speech by Chairman
Chairman SAKAKIBARA's Speech at The Fifth Asian Business Summit
2014.09.14 - 2014.09.15
Manila Philippine
---
1. Introduction
Thank you, Mr. Castillo, for your kind introduction.
Dear colleagues, I was appointed chairman of Keidanren, Japan Business Federation, in June this year. As co-chair of this Asian Business Summit, I am looking forward to having a fruitful exchange of views with Chairman Eddie Jose of the Philippines-Japan Economic Cooperation Committee, and with all of you gathered here today.
Asia, as the center of global growth, is driving the world economy. In 2013, the average rate of Asia's GDP growth in real terms was 6.2 percent#1, higher than the world average of 4.1 percent#2. Recent data also show that Asian economy accounts for around two-thirds of the growth rate of the global economy.
The key to making this economic growth a sustainable one lies in improving business environment and invigorating trade and investment. In view of the establishment of the ASEAN Economic Community at the end of next year, and the progress in the RCEP negotiations by ASEAN plus Six, we are faced with a golden opportunity to make a major stride forward.
Today, I would like to give all of you participating in this summit a brief outline of the current status of the Japanese economy under Abenomics. I would also like to share with you my thoughts on the strategy required to ensure sustained growth in Asia.
2. Status of the Japanese Economy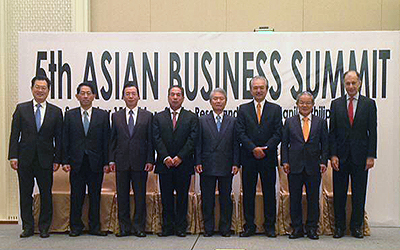 Since the change of administration in Japan in December 2012, Abenomics, consisting of "three arrows" —that is, bold monetary policy, flexible fiscal policy, and a growth strategy that vitalizes private investment—is being implemented with the objective of getting rid of the deflation that has plagued Japan for about twenty years.
Thanks to Abenomics, there are signs of brightness in the Japanese economy: planned capital investment by major manufacturing companies this fiscal year is up by 12.7 percent#3 from last year, indicating the corporate sector's strong appetite to invest. Employment is up by 1.0 percent year-on-year, and wages are also rising from the previous year#4. As for consumer spending, although we still need to watch carefully how the increase in consumption tax this April will affect the future figures, so far it is largely within the projected range. Against this background, consumer prices are forecast to continue to rise gradually.
In short, aided by a stable political situation, we in Japan are witnessing the beginning of a virtuous economic cycle in which improved corporate performance is leading to increase in capital investment and wages, uplifting the base of the economy as a whole. Now that the end of deflation is in sight, accelerating implementation of the "growth strategy", which is the third arrow, is becoming all the more important in making sure that this positive trend will become sustainable.
3. Toward Sustained Growth in Asia
The growth strategy that I have just mentioned, consists of several major pillars, one of which is that Japan should develop hand in hand with the rapid growing Asian economies. We at Keidanren are contributing to the growth of Asian economies from the standpoint of the business community through two complementary approaches: first, the development of both hard and soft infrastructure, and second, the promotion of economic cooperation agreements.
(1) Infrastructure development overseas
In Asia, the establishment of a cross-border supply-chain is underway. To reinforce this trend, it is essential to develop core infrastructure such as roads and industrial parks. Reducing logistics costs by securing seamless surface transportation, and thereby strengthening connectivity is one of the big issues we should tackle.
Japan's public and private sectors, working jointly, are willing to build a win-win relationship with other Asian economies by making use of our experiences and high technologies in the infrastructure area.
(2) Development of soft infrastructure
A well developed hard infrastructure, however, is not a sufficient condition for a good business environment. Business activities could still be obstructed, if soft infrastructure, such as, opaque internal regulations, time consuming administrative procedures, unduly complex tax system, all of which underpin our day to day business, is weak.
Improving business environment will not only benefit foreign investors, but also domestic companies. In view of this, we in the private sector, being at the forefront of business, should take the lead jointly in lobbying national and regional governments to improve the business environment under their jurisdiction.
(3) Promotion of economic cooperation
Japanese and many other members of the Asian Business Summit are seeking to liberalize trade and investment through the conclusion of agreements such as the RCEP, TPP, and Japan-China-Korea FTA. With the completion of the FTAAP in 2020 also in mind, it is necessary to expand the network of economic cooperation agreements as broadly as possible.
In view of this objective, it is essential to ensure that FTAs and EPAs are not exclusive, that is to say, any economy meeting certain conditions should be allowed to participate in the negotiations.
Comprehensive FTAs and EPAs not only contribute to the liberalization of trade in goods, investment, and services, but also stimulate the movement of natural persons.
In Asia, economies that are facing labor shortages caused by falling birthrates and ageing population exist side-by-side with those enjoying the so-called "population bonus". It is possible, therefore, to complement each other by encouraging cross-border migration of experts, skilled workers, and nurses and caregivers within the region.
Consequently, the addition of "movement of natural persons" as a new topic at this summit, is, in my opinion, very timely indeed.
4. Concluding remarks
Ladies and gentlemen,
I would like to conclude my remarks by stressing the following two points:
The 21st century is the Asian Century. It is crucial that we, the private sector, work together to contribute to the achievement of sustained growth both in Asia and the world.
I sincerely hope that this Asian Business Summit will serve as a platform for strengthening further the cooperation within the business community of Asia.
Thank you very much for your attention.
---
2014 (IMF forecast)
2014 (IMF forecast)
Bank of Japan Tankan (June survey)
Ministry of Health, Labour and Welfare Monthly Labour Survey (May 2014)