Executives' Comments Speech by Chairman
THE FUTURE IS NOT OURS TO SEE, BUT TO MAKE
Microsoft CEO Satya Nadella and Keidanren Chairman Hiroaki Nakanishi talk about Digital Transformation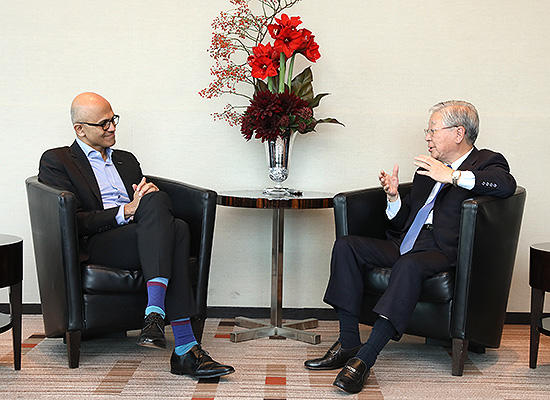 Satya Nadella

This is such a pleasure seeing you again.

Hiroaki Nakanishi

Thank you very much for taking time from your busy schedule to come.

Satya Nadella

No problem. Thank you.

Hiroaki Nakanishi

And thanks again for giving us the opportunity to have this kind of interview with you. Keidanren is the Japanese Business Federation, and we are now strongly promoting the digital transformation of Japan's economy. This differs somewhat from other approaches in that government, business, and also academia, these three together, are collaborating very closely to set up our future dreams.

Satya Nadella

Of course.

Hiroaki Nakanishi

In this highly uncertain world and environment, which nobody can see clearly, we need to set up a future dream plan, which we have called Society 5.0.

Satya Nadella

Right.

Hiroaki Nakanishi

In this fifth stage of society, we are very focused on a highly creative society as our dream of the future. Keidanren is currently preparing brochures stating this future vision. So today is a great opportunity as Microsoft is also broaching this kind of very open and creative society backed by not only Microsoft's products and services but culture itself.

Satya Nadella

That's right.

Hiroaki Nakanishi

That's my understanding. Today I would like to hear examples of Microsoft's vision for, say, 2030 and 2050, further down the road, and what Microsoft's dreams are.

Satya Nadella

For sure. First of all, thank you for the opportunity. I think that the way you framed even what you're doing inside of the organization and bringing together business, government, and academia. This is how transformations always happened. And so, I think that these three things all having a bold vision for what the future can look like is very important. So, for example, in Microsoft we are very focused on two pillars that are driving our own transformation. One is a sense of purpose in mission as well as a culture that allows us to then really realize that mission because technologies will continuously be changing and shifting.

Hiroaki Nakanishi

Very dynamically.

Satya Nadella

It will be very dynamic but we need these two pillars that allow us to in some sense capitalize on the changing opportunities and then realize our mission. So, for example, in 1975 when Microsoft was created the very essence of the company was to create technology so that others can create more technology. Here were are in 2018 that sense of purpose or mission which was true in 1975 is more true in 2018 because everybody is a technology business. It doesn't matter whether you are in retail or you are in energy, whether you are in financial services or any particular part of our economy, everybody is a digital or a software business. In some sense that core ability to provide technology to all companies — digital technologies so that they can become digital companies themselves is what we're really focused on.

But then, of course, the culture that we need inside of Microsoft that I would claim that I think even our broader society needs is we cannot be fixed in our ways. One of the things that we use internally to talk about our culture is how do we go from being the know-it-alls to learn-it-alls, that ability to continuously seek new ideas, learn new capabilities is what the culture needs to foster. And so, those are the two major pillars for our transformation. Of course, we can talk about all of the new technologies and I believe that was something that we should talk about.

Hiroaki Nakanishi

Yes. Microsoft had a very strong culture in the sense of office in the beginning, but now you are expanding social issues into the creative, not only internally but also externally. That's my understanding.

In the case of Japan, we have very many social issues, such as aging society and a declining population. We also have limited energy resources. There are many issues to solve. But now, social issues can be more easily solved through digital transformation.

Satya Nadella

That's correct.

Hiroaki Nakanishi

That's a very clear target.

Satya Nadella

That's correct.

Hiroaki Nakanishi

In that sense, digital technology is not only targeted towards the office, but also many industrial and social areas.

Satya Nadella

Very important, in fact, I think it's very interesting. See, for example, if you look at in Japan what can digital technologies in years to come do to deal with some of the big demographic shifts, societal shifts? Take productivity. We know that Japan has always led in productivity. It has always stood for how to be able to drive economic growth and prosperity by driving new methods of production. Now in this next phase it's going to be digital. I think that not only thinking about the knowledge work but even first line work. One of the area that has been very exciting to see and I was going to talk about some of these examples whether it's in Toyota or in East Japan Railway or what have you, where first line workers using HoloLens which is a holographic interface can now in a hands-free way do work that is — got the remote engineers to help them fix things, anticipate things and so that's a driver of productivity. I think the combination of what has been traditional knowledge work and first line work increasingly being digitalized I think can be a massive driver of productivity. Now another aspect of all economies going forward especially given the aging population in Japan will be how can care be changed?

Hiroaki Nakanishi

Yes, that's a very important point.

Satya Nadella

Right, for example, I think that things like AI can be foundational in how care is given. Chronic care management, for example, can be a continuous sensing network. What is happening with IoT and AI can really help us take care and what is considered care management can be completely digitalized.

Hiroaki Nakanishi

Exactly. Many people are talking about how to reduce the expense of health care or aging care. While that's the right focus for politicians now, simultaneously, it's not simply about economic reasons. How to improve quality of life and extend healthy lives is our target.

Satya Nadella

That is correct. So, in fact, there are three really broad technologies that I am really excited about as the drivers of the next generation. One is I would say around the new human computer interface which is what we describe as multi-sense, multi-device experiences and perhaps the best example of that is what HoloLens and Mixed Reality does. But the ultimate computer is the computer that's always there in front of your eyes where you have both digital and analog. That computing interface can be transformative when it comes to things like productivity whether it's for first line or for knowledge work.

The second area, of course, that I am also excited about is AI because AI is kind of the oil of our times. The ability to turn data into predictions and automation is going to be the other driver of all business process improvement whether it's in retail or logistics or healthcare. I think AI is going to be transformative. And then, the other technology which is perhaps a little more because you had asked earlier about what is the thing that's there on the horizon but may be a little more out in the 10, 15, 20 years is quantum computing. Because you brought up even the challenge of climate because if you think about it we still for all of the computing power we have we're still not ...

Hiroaki Nakanishi

Yes, we still need a very powerful computing machine to simulate everything.

Satya Nadella

That's correct. Therefore, I think even the work we're doing in quantum can be a very transformative piece of technology.

Hiroaki Nakanishi

We are talking a lot about the dream of the future based on this digital technology, but simultaneously, in reality, one of our big challenges is the issue of industrial structure. For example, Japan has many powerful SMEs, small- and medium-sized businesses. Structurally, big industry has had a hierarchical structure, such as tier 1, tier 2, and tier 3, all of them working together through one target of their global operations. Those kinds of structures are no longer feasible.

It's more of a horizontal view on how to share real data, market to manufacturing. That kind of sharing is also enabled by technology. That's great, but there are still these SMEs, and so many issues, such as the capability of dealing with digital technology or changing mindsets about being a follower, not a way to make a more creative world. We are now discussing how to deal with that, especially in Japan. Germany has the same structure, but they are already changing very dynamically.

Satya Nadella

That's right.

Hiroaki Nakanishi

But it's not yet in Japan.

Satya Nadella

That's very interesting.

Hiroaki Nakanishi

Microsoft has enormous power in terms of offering products, services, facilities, and capabilities. A typical example would be how to use a tablet, apart from PCs, how to make them work with easily accessible data. How to deal with this kind of thing, along with your cloud services, are what you, Satya-san, are largely responsible for. Those kinds of collaborations are our next target in terms of more dreams for the future, but before that, we must challenge these issues.

Satya Nadella

That's right. It's a very interesting one. I mean I think the industrial structure, of course, we live in a network economy and so therefore whether it's the SME or the large multinational, we all live in an ecosystem. Especially in a digital context these ecosystems are really all about even data and data sharing and knowledge sharing between the various players. One of the real interesting things for us as we think about how these ecosystems can be shaped there is a simple formula I talk about called "tech intensity." It doesn't matter whether you are a large business or a small business.

If you start thinking of yourself as a digital company you will do two things. First is you will make sure that what is available as digital platforms you are adopting very fast. You are not waiting. You are making sure that whether it's for productivity so it can be the tablet, it can be the productivity software so that you can collaborate. You are really taking what is available which is best in class and bringing it in to your organization. Same thing with cloud infrastructure, so for example, in order for you to build your applications, create your own AI you want to be able to bring the AI platform that is available.

Then, the second part of the formula is you need to build your own unique digital capability. One is think of it as getting the latest digital commodity and then building your own digital capability. The combination of those two is what's going to give every organization a tech intensity. If you, sort of as Japan and as Japanese business, evangelize the development of tech intensity irrespective of size or sector that I think can be the big driver of the economic growth in Japan.

Hiroaki Nakanishi

Yes. Keidanren is fairly representative of national global business, but recently, I myself am focused on the structural change of SMEs. It's not particularly easy, but now, government conversation is sometimes not a major accelerator of this big transformation. Therefore, Microsoft will have to play a role.

Satya Nadella

Absolutely. In fact, one of the things that I think very much of is Microsoft's participation in Japan creating digital transformation and digital capability across the spectrum. It can be the public sector institutions becoming more efficient, large Japanese multinationals becoming more competitive, SME organizations in Japan becoming more productive and changing whether its health outcomes or educational outcomes is really the core of what we are trying to do with Microsoft by participating in Japan.

Hiroaki Nakanishi

Yes. That's very good. Your saying those kinds of things is encouraging Japanese business people to join this digital transformation with Microsoft.

Satya Nadella

That's right.

Hiroaki Nakanishi

Recently, I heard that next year at Davos, the World Economic Forum will also discuss the Fourth Industrial Revolution again. For four years already we have been discussing what the Fourth Industrial Revolution is. Prof. Schwab has taken a strong initiative in broadening the meaning of social change, but now we will be proposing our leading concept of Society 5.0 at the Davos conference.

Satya Nadella

Yeah, that's wonderful. One of the things that also is in the forefront of the conversation when you talk about Industry 4.0 or Society 5.0 or what have you is as digital technology becomes much more pervasive in our lives and in our societies and in our economies, we also I think have to be in the forefront of dealing with some of the unintended consequences of digital technology. One of course is privacy. The idea that privacy ...

Hiroaki Nakanishi

Yes, that's a very sensitive issue.

Satya Nadella

The idea that privacy at some level going forward has to be treated as a human right. So any business, anyone building digital applications will need to support data being private, data being something that is permissioned by the user so that's kind of one area. The second area is cyber security because as digital technology gets diffused or more broadly used that means there is also going to be the threat of cyber attacks. In fact, we've called for what is the Geneva Convention for cyberspace so that we can all use our collective power to protect the most vulnerable of populations which is small business and consumers as well. That's a second area. The third one is the ethics around how AI is getting used because it's not just about asking the question or what can computers do but also asking the question of what should computers do. In some sense we're at that forefront of not only talking about the great advantages of transformation that are brought about by digital technology. But we as an industry will and the government and industry and academia have to come together to address these three I would say fundamental challenges.

Hiroaki Nakanishi

That's the background of why we need future dreams on what society can be. That's a very important point in the sharing of goals. Our catch phrase is Society 5.0 for SDGs, Sustainable Development Goals. Those kinds of shared future goals might help us check our daily activities.

Satya Nadella

That's right. I mean having these high ambitious SDG goals are obviously going to help us drive a lot of technology. But more importantly, direct a lot of the technology so that they drive the benefits to broader society. As we're driving the benefits to broader society we also have to deal with the unintended consequences. That's the way it will be benefit the society. And so, I think digital transformation and the challenges around cyber privacy and ethics around AI is I think the agenda that needs to be in front of us.

One of the things that I would love for us to partner would be to showcase you with a lot of Japanese examples around this tech intensity. Because the best way for us to bring about transformation is to show the decisions people are making leading to transformation so that we can grow confidence that this transformation can be achieved.

Hiroaki Nakanishi

Yes. The most important point is mutual trust and confidence. Those shared values are very important for the future.
What is the purpose of your trip to Japan this time?

Satya Nadella

It's always for me coming here, meeting lots of customers and partners and seeing — I mean what is really fun is to be able to see digital technology in this next phase have more of an impact. You always sometimes think that okay all the work that you've done in the last whatever 40 plus years obviously has led to a lot of success. But the question is in 2018 as I said every company whether I am talking to a retail customer or an energy customer or financial services customer they're all much more digitally savvy and with high ambition.

Hiroaki Nakanishi

I fully agree. Recently, that's not only in Japan but worldwide. Also, I really appreciate the collaboration with Microsoft Japan, especially in setting up the initial stage of dealing with cyber security issues. Promoting Society 5.0 cyber security is a very serious concern, as is how to make our member companies more aware.

Satya Nadella

Correct.

Hiroaki Nakanishi

Recently, cyber risk is very destructive, which is why we need to take care of that.

Satya Nadella

That is right. We have one of the big advantages that Microsoft has is the operational security posture. So, for example, we analyze more than 6 and half trillion security signals each day. We process 450 billion authentications and scan 400 billion emails for malware and phishing each month. And so, we apply all of this operational security posture to build products and services to protect businesses, whether it is on the end point devices, whether it is in being able to make sure that your information in your cloud service is protected. These are things that obviously we would love to make sure that the best practices between what we are doing and what the industry is using are all shared.

Hiroaki Nakanishi

Yes, thank you.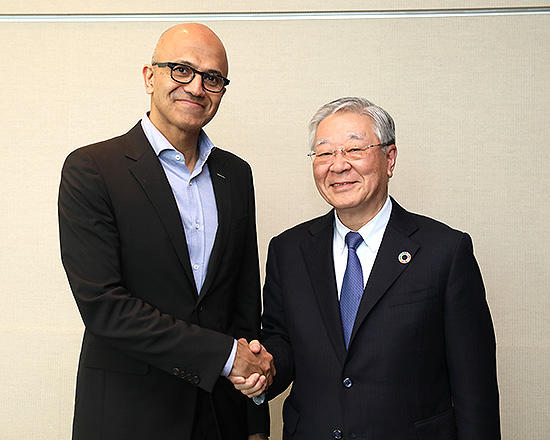 (November 5, 2018, CONRAD TOKYO)