Messages from Keidanren Executives
April, 2012
Forging an ever closer partnership between Japan and China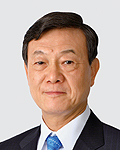 Fumio OHTSUBO Vice Chairman of the Board of Councillors, Keidanren
Panasonic Corporation
This year, 2012, marks the 40th anniversary of the normalization of diplomatic relations between Japan and China. And since diplomatic relations were normalized in 1972, Japan and China have been working together to develop a better understanding of each other and to strengthen ties of mutual trust in various fields, by expanding economic exchanges and people-to-people contacts.
Having a cooperative relationship between Japan and China serves a very important role in not only realizing continued progress in our two countries, but also in Asia as a whole and around the world.
In the 12th Five-Year Plan which was adopted last year, China changed its economic growth model by shifting its focus from "quantitative expansion" to "qualitative expansion." And China has chosen the "environmental protection and energy-saving sphere" as one of the main pillars of its policy, and is working to realize a resources-saving, environmentally-friendly society. By making the most of the strengths that Japan possesses in environmental technology and in know-how related to energy saving, we wish to make a contribution in various ways to help solve the environmental problems which our neighbor China faces.
In addition to such economic exchanges as these, it is important that we continue to have many other kinds of exchanges in order to forge an ever closer partnership between our two countries, and to develop a deeper understanding of each other. As an all-Japan organization supported by both the government and private sectors, the Executive Committee for 2012 "friendship year for Japan-China people-to-people exchanges" has already been established, and a number of worthy projects to mark the 40th anniversary of the normalization of diplomatic relations have been launched.
More specifically, a variety of projects have been planned where people from both countries interact, projects such as those concerned with youth exchanges, which will underpin the future of Japan-China relations, regional interaction, cultural and sports interaction, grass-roots interaction, tourist interaction, and assistance to areas afflicted by the Great East Japan Earthquake. I believe that through continued exchanges on the people-to-people level, friendly relations between our two countries will become ever deeper.
When I first visited Shenzhen, China in 1989, many of the roads there were in need of repair. However, only a few years later, a number of high-rise buildings appeared in the city. Even now China is continuing to make dramatic progress and we can expect that things will continue to change at a rapid pace.
I sincerely hope that the celebration of the 40th anniversary will help facilitate ever closer exchanges between Japan and China in a wide variety of fields, and future-oriented, stable Japan-China relations will be forged.