Messages from Keidanren Executives
November, 2015
Contribution to Monthly Keidanren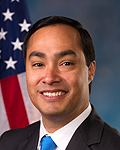 Joaquin Castro Member, United States House of Representatives
Co-Chair, Congressional US-Japan Caucus
This year is a historic one for the United States and Japan. We marked the 70th anniversary of the end of the Second World War and the beginning of a lasting peace between our two nations. In the spring, I was pleased to welcome Prime Minister Shinzo Abe as the first Japanese Prime Minister to address a joint session of Congress. Though separated by a vast ocean, the United States and Japan remain close, critical allies and partners.
I am proud to be a founding Co-Chair of Congress's U.S.-Japan Caucus, which aims to strengthen our nations' relationship and engagement. The caucus is in its second year and includes 70 members from both the Republican and Democratic parties. We regularly meet with Japanese officials, receive members of the Diet, and engage with Japanese and Japanese-American organizations across the country. On Capitol Hill, we educate other members of Congress on our countries' partnership with the aim of building even stronger U.S.-Japanese ties.
This past August, I visited Japan in my capacity as the Co-Chair of the U.S.-Japan Caucus. While there, I had the honor of meeting with Prime Minister Shinzo Abe, U.S. Ambassador Caroline Kennedy, members of the Japan-U.S. Parliamentary Friendship League, and several other government officials and business leaders including Keidanren. I also experienced first-hand Japanese engineers' impressive work when I test drove Toyota's hydrogen car, the Mirai, and took a ride on JR Central's Maglev high speed train. I am hopeful that Texas will soon be the beneficiary of a high speed train that will run between Houston and Dallas.
I returned from my trip to Japan energized about our nations' partnership. The U.S. and Japan's engagement is speeding progress in our respective countries and in the entire Asia-Pacific region.
I also came away from my trip excited about the great potential that exists for our nations' future engagement and collaboration. There are three areas in particular that I believe hold significant potential for our continued mutual success: energy, security, and economic development.
Japan is currently looking for additional energy supplies, and the United States can satisfy some of those needs with our natural gas resources. The Eagle Ford Shale in Texas, has the potential to supply Japan with liquefied natural gas and provide a cleaner energy option. It is in both of our nations' best interests that Japan import its fossil fuels from the United States rather than from unfriendly, unreliable suppliers. In Congress, I'm pushing to open up America's energy assets even more and increase our exports to countries around the world, including Japan. These resources from the U.S., coupled with the innovative renewable technology our nations are developing together, can boost Japan's energy security and further diversify our nations' economic ties.
Japan and the United States' partnership enhances security not just in the Asia-Pacific, but around the world. The United States is deeply grateful to Japan for its support of our efforts fighting terrorism and protecting human rights. Our nations have worked together to counter threats like ISIS, with Japan pledging significant resources to combat violent extremism in the Middle East and Africa. However, we understand the sacrifice Japan is making in joining us in this effort; our hearts broke when two Japanese journalists were killed by ISIS, targeted because of Japan's support for the United States in the fight against terror. Just as Japan has stood by the United States, the United States remains committed to defending Japan's security. Through our joint efforts, we are laying the groundwork for a more peaceful, secure world.
This is an exciting time for our nations' economic partnership — U.S.-Japan economic ties are poised to grow even stronger if and when the Trans Pacific Partnership trade agreement is finalized. The TPP is a key priority in President Obama's "pivot to Asia," and I'm hopeful that the final agreement is beneficial and fair for all countries involved and something Congress can support.
Texas has certainly felt the benefits of partnering with Japan economically. Japan is the fourth-largest foreign direct investor in Texas. Since the mid-1980's, my home city San Antonio has had a strong sister city partnership with Kumamoto. In fact, while serving as mayor of San Antonio, my brother Julian visited Tokyo and Kumamoto to continue and grow the sister city relationship. In San Antonio, we now have a strong, valued Japanese business presence. For example, Toyota and its suppliers provide good jobs to 5,700 people in the San Antonio area. San Antonio and Texas aren't unique though — local and state economies across America benefit from Japanese investment and industry. I look forward to our nations' increased economic engagement in the coming years.
There is still much left to accomplish in all areas of our nations' partnership, but I'm confident that working together we can take whatever challenges arise. I look forward to our continued friendship and collaboration as we embark on this next chapter of U.S.-Japan relations.