Messages from Keidanren Executives
April, 2016
The future of Myanmar and Japanese companies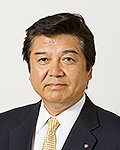 Shigeharu SUZUKI Vice Chair of the Board of Councillors, Keidanren
Chairman of the Board, Daiwa Securities Group Inc.
Following a general election last November, Daw Aung San Suu Kyi's National League for Democracy (NLD) will take the helm in April. Looking back over the past four years since President Thein Sein came to power in 2011, Japanese newspapers have been full of stories about Myanmar seemingly on an almost daily basis.
Having enjoyed close ties with Myanmar for some 20 years, the Daiwa Securities group was able to help establish the Yangon Stock Exchange, which opened in December under the lead of Japanese government officials and with the cooperation of Japanese private-sector players. The development of capital markets will help spur economic growth in Myanmar, which will move forward with democratization under a new government.
While Europe and the US were imposing economic sanctions on Myanmar, however, it begs the question, did Japan really have an advantage in that nation? With Myanmar to open its doors to foreign investment, can Japan continue to have a leading position there?
Apparently many in the NLD brains trust have had experience studying in Europe and the US. A number of students sent overseas under the Myanmar government's scholarship program aspire to study at prestigious European and US universities, while Western companies have also apparently actively recruited students who studied abroad. Myanmar's younger generation—the nation's next leaders—has been steadily embraced in such ways by Europe and the US. With the NLD coming to power, the democratization process and easing of restrictions on foreign investment is likely to accelerate, and the nation's tilt to the West should become clearer.
With the Japanese government aware of competition for attracting talented students from Myanmar and of the significance of winning such a race, the Ministry of Economy, Industry and Trade along with the Ministry of Education, Culture, Sports, Science and Technology have increased opportunities for such individuals to study in Japan through industry/academia/government collaboration and have put in place a framework for their employment with Japanese firms. For our part, Daiwa Securities Group established the Daiwa Myanmar-Japan Foundation, which provides assistance to individuals from Myanmar who are expected to play a central role in that nation's financial and capital markets.
For Japanese companies looking to develop businesses in Myanmar, they will indeed have to generate healthy earnings there, but probably more importantly, they will also have to cement personal ties and continue with training personnel and contributing to the community. Looking ahead, we hope to forge even deeper ties between the peoples of Japan and Myanmar with the help of industry, academia, and the government.