Messages from Keidanren Executives
November, 2016
Thinking About Community Creation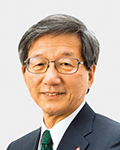 Kunie OKAMOTO Vice Chair, Keidanren
Chairman, Nippon Life Insurance Company
I love Kumamoto. And that Kumamoto was struck by a totally unexpected massive earthquake. There were more than 2,000 earthquakes, in fact. How difficult it must have been. I have many acquaintances and I feel sorry for them and sympathize deeply.
Frequently traveling to my beloved Kumamoto.
Kumamoto Castle, proudly called "our castle" by local residents, is the best castle. But, Kumamoto has many other really wonderful places, too.
Amakusa was the setting of "5 Pairs of Shoes." It reminds me of a sushi restaurant in Hondo. Yamaga has a quiet ryokan, traditional Japanese inn. Aso and Takachiho are a fusion of vast natural surroundings and the ancient past. It's almost like entering an entirely different world. Hitoyoshi was once an independent kingdom. Then, there are basashi (raw horse meat), karashi renkon (lotus root stuffed in a mustard-like sauce called karashi), "Kusamakura" (a novel, published in 1906). Kumamoto is a treasure trove of charms.
Recently, I traveled around the Sanriku region five years after it was hit by a major earthquake. Even now there are embankments being raised all over the place. It is taking time for people to make their way back to the area.
Considering the struggles that the people of the area are going through, we can't allow the calamity of the disaster to be forgotten, I believe. In the city of Kesennuma, the local government is working extremely hard, utilizing a variety of ideas. In Kamaishi, I spoke to a member of the scallop industry striving hard to restore the area. There are many similar young business owners full of energy. In fact, they gave me energy, and I began to wonder if there were anything we could do to provide significant support for their beliefs and efforts.
I spoke with a senior colleague from Keidanren about hometowns.
"Have you heard of Shimanami Kaido? Onomichi, Mukojima, Ikuchi island, Oyamazumi Shrine, Noshima island, Imabari. All these wonderful places are connected in one route. It's the home base of the Murakami pirates. The fish tastes superb and the scenery is outstanding! Go to Saijo for the sake. And for hot springs…Dogo Onsen is the place for hot springs, all right," he said, depicting his hometown through routes and places while speaking of the area's vitality.
Not long ago, domestic travel had revenues of ¥30 trillion. Now, it's ¥20 trillion. Nowadays, there is a lot of talk about inbound tourism from overseas travelers, but on the other hand, we should revise domestic travel more and more, collaborate with local governments and local business owners working hard in various areas and contribute to community creation.