Messages from Keidanren Executives
December, 2016
The Future of Financial Institutions and FinTech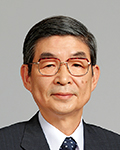 Katsunori NAGAYASU Vice Chair, Keidanren
Senior Advisor, The Bank of Tokyo-Mitsubishi UFJ, Ltd.
It's been a while since the term FinTech—referring to the new financial services created through the combination of finance and IT and the companies that offer them—became widespread. Smartphones can be used to pay for items, without cash, while robots greet customers at bank branches and computers manage assets. Technological innovations have been changing financial services in major ways.
Venture companies have been springing up, primarily on the US West Coast, since the collapse of Lehman Brothers in 2008. These companies offer innovative financial services, capitalizing on the latest in technology and new business models. Since then, huge amounts of capital have flowed in, and many venture companies have been launched in financial fields, offering a wide variety of new services. FinTech is starting to garner attention even in Japan now, after improving financial settlement services was named as one of the key areas of the Government's Japan Revitalization Strategy last year.
Major banks should be responding to such developments. Bolstering ICT operations, including FinTech operations has become a management issue. For example, the Bank of Tokyo-Mitsubishi UFJ has been tapping the expertise of venture specialists and outside companies to focus on open innovations. We have been creating a global organization specializing in innovation, and holding idea contests and implementing FinTech training programs here in Japan.
FinTech began with simple financial settlements and has developed to include many types of financial businesses, including deposits and lending. This has been because of active investment in not only the US, but also Europe and Asia, and especially more recently in India and China. The market shares of more traditional banks are being threatened in some fields. On the other hand, the financial institutions that have been hurt by the growth of FinTech have been teaming up with venture companies and companies in different fields to develop convenient services and find new business expansion opportunities.
So far in Japan, traditional bank customers have not yet felt the impact of the changes brought about by FinTech. But companies will have to address financial innovations even faster than in the past in order to develop the financial markets and not be left behind by global competition.