Policy Proposals U.S. and Canada
Confirmed the need to strengthen relationship with the US State governments
- Hosted luncheon meeting for State Governors -
On August 28th, Keidanren Chairman Hiroaki Nakanishi hosted a luncheon meeting for Governors participating in the National Governors Association (NGA) U.S.-Japan Governors Forum in Tokyo. Participants from the United States included Nevada Governor Brian Sandoval, New Mexico Governor Susana Martinez, Kentucky Governor Matt Bevin, Nebraska Lt. Governor Mike Foley, and Administrator of Guam Economic Development, Jay Rojas. From Keidanren, Chairman Nakanishi, Vice Chair Hayakawa and Chairs of Committee on U.S. Affairs, Messrs. Ueki and Nagano participated.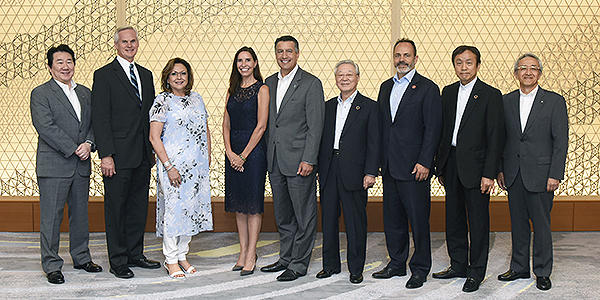 Keidanren participants highlighted the Federation's efforts to enhance U.S.-Japan bilateral ties through missions to the United States, including 9 visits to 16 states since 2015. Mr. Hayakawa and Mr. Nagano underscored Japanese companies' interests and concerns about trade issues including the NAFTA re-negotiation and Section 232 national security investigation on U.S. imports of automobiles and auto parts.
Keidanren asked for the governors' understanding with respect to the importance of a stable business environment for attracting more investment. Mr. Ueki shared his positive experience meeting and speaking with many governors when participating in the NGA summer meeting in Santa Fe in July.
Mr. Nakanishi explained Keidanren's priority of "Society 5.0 for SDGs," in which the governors showed great interest.
The governors expressed their gratitude for Japanese companies' substantial investments and efforts at job creation in the United States. They expressed their commitment to strengthening the U.S.-Japan relationship through continued dialogue and cooperation.
***