Policy Proposals Trade, Investment, EPA/FTA
Global Association Statement towards MC12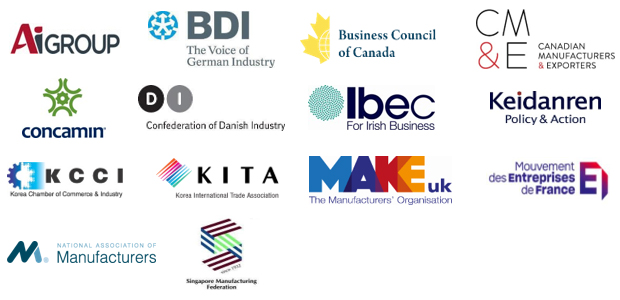 The undersigned industry associations representing manufacturers of all sizes in Australia, Canada, Denmark, France, Germany, Ireland, Japan, Korea, Mexico, Singapore, United Kingdom and the United States have long supported the World Trade Organization as the core of a multilateral, free and transparent rules-based framework that promotes the expansion of global commerce, creates opportunities for manufacturing workers and improves the competitiveness of our industry.
The WTO has underpinned the success of the global economy, and WTO rules enable the effective functioning and enforcement of the multilateral trading system for the benefit of all members. In recent years, however, the multilateral trading system has not kept pace with industry and technological developments or new trade-distorting practices, nor has it been updated to address broad systemic challenges.
The growth and success of manufacturers and workers in all countries depend on concrete solutions to revitalize and modernize the WTO. Key elements of a WTO reform agenda must include:
New trade liberalization, including but not limited to an agreement that would tackle e-commerce and digital trade barriers, the expansion of the Information Technology Agreement, expansion of the Agreement on Government Procurement, and an agreement that eliminates trade barriers on environmental goods and technologies;
Reform to special and differential treatment afforded to certain WTO countries;
A modernized and enforced WTO rulebook that reduces barriers and distortions in the international trade system; and
Improvement to WTO enforcement tools, including through reform of the Dispute Settlement system and restoration of the Appellate Body.
Finally, the WTO must build international support for effective initiatives that leverage trade to fight COVID-19, enhance future pandemic preparedness and support the global economic recovery. These efforts should focus on supporting and enabling global COVID-19 vaccine development, production and distribution as well as liberalizing and facilitating trade in health-related goods and services that are needed to fight the pandemic, rather than divisive proposals that undermine core global trading rules in areas such as intellectual property.
As governments prepare for the twelfth WTO Ministerial Conference, manufacturers in our countries are committed to working together and engaging directly with our governments and other businesses and stakeholders to ensure that the WTO is positioned to support rules-based, open and fair international trade and investment well into the future.
Australian Industry Group
BDI
Business Council of Canada
Canadian Manufacturers & Exporters (CME)
CONCAMIN — National Confederation of Industrial Chambers and Trade Associations in Mexico
DI — Confederation of Danish Industry
Ibec
Keidanren (Japan Business Federation)
Korea Chamber of Commerce and Industry (KCCI)
Korea International Trade Association
Make UK
Mouvement des Enterprises de France — MEDEF
National Association of Manufacturers
Singapore Manufacturing Federation