Policy Proposals
Keidanren's Initiatives and Efforts on Environment
"Challenge Zero"

-- Innovation Challenges towards a Decarbonized Society --
In order to achieve a decarbonized society, the goal of the Paris Agreement, at the earliest possible date, companies must swiftly develop and deploy innovative technologies, positioning this challenge as an important management issue.
As of June 2020, over 130 companies and organizations have endorsed the "Declaration on Challenge Zero" and announced over 300 innovation challenges for development of net zero emission technologies (including transition technologies), their deployment, and finance for companies actively engaged in these challenges.
Actions by the Business Community
on Long-term Global Warming Countermeasures up to 2050
Private companies and organizations will proactively demonstrate their stance and long-term vision both domestically and internationally regarding global warming countermeasures through 2050. This will certainly contribute to the promotion of ESG investment, and consequently serve to accelerate global warming countermeasures.
Recognizing the above, Keidanren called on its member companies and organizations to look into formulating a "long-term vision" and provide relevant information. As a result, more than 250 companies and organizations have announced that they have already formulated, or are in the process of formulating a "long-term vision".
Contributing to Avoided Emissions through the Global Value Chain
(Fifth Edition)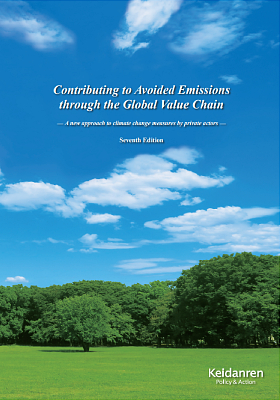 This Concept Book explains the idea and significance of avoided emissions through the global value chain (GVC).
In the second half, it also introduces case studies of various industries and companies "visualizing" the avoided emissions achieved through a variety of products and services.
Keidanren Carbon Neutrality Action Plan

The Commitment to a Low Carbon Society
The Commitment to a Low Carbon Society
This pamphlet explains the significance and accomplishments of voluntary actions by the Japanese business community that have been continuously carried out since 1997.
https://www.keidanren.or.jp/en/policy/vape/LowCarbonSociety2017.pdf

Voluntary Action Plan
for Establishing a Sound Material-Cycle Society